HELEN — Carroll's head coach Kurt Paulson and senior Jovan Sljivancanin earned Frontier Conference Coach and Player of the Year honors, the league announced Tuesday.
Three Montana Tech players picked up individual awards, including second Caleb Bellach, who won Newcomer of the Year following a pre-season transfer from NCAA Division I Montana State. Freshman Keeley Bake was selected as the league's Sixth Man of the Year and senior Derrius Collins won Defensive Player of the Year honors.
Kael Robinson of Rocky Mountain College was named the conference freshman of the year.
The league also announced its picks for all first and second team conferences, as well as the All-Defensive Team and Character Champions.
Paulson, who guided the Saints to a 28-4 season, earned his 100th career victory as Carroll's head coach earlier this year. He became the fastest coach in program history to reach the milestone in his career, doing so in just 128 games.
Carroll finished the regular season 13-2 in the league, good enough to earn a share of the Frontier's regular season title. The Saints fell to Montana Tech in the league tournament championship on Monday night.
Carroll's Jovan Sljivancanin finished the league roster as the conference's second-leading scorer. He is averaging 19.5 points, 10.9 rebounds, 3.3 assists and 1.3 steals per game. In conference competition, Sljivancanin averages over 20 points per game.
He was recently named to the Bevo Francis 50 Greatest Players list, an award given annually to the best little player in college basketball. Sljivancanin scored 15 points and grabbed 11 rebounds in the league tournament title game. He is now less than 100 points away from scoring 2,000 in his career.
Bellach, Bake and Collins have all been instrumental in what has been a historic season for the Orediggers. Tech ended a nearly 30-year regular-season title drought, a 23-year tournament title drought and won at least 20 games for the first time since the 1997-98 season.
Bellach averaged 15 points and 4.1 rebounds per game in his first season with Tech. Playing at his father's alma mater and wearing his number, Bellach scored nearly 17 points in conference play and shot more than 44 percent from the field for the season.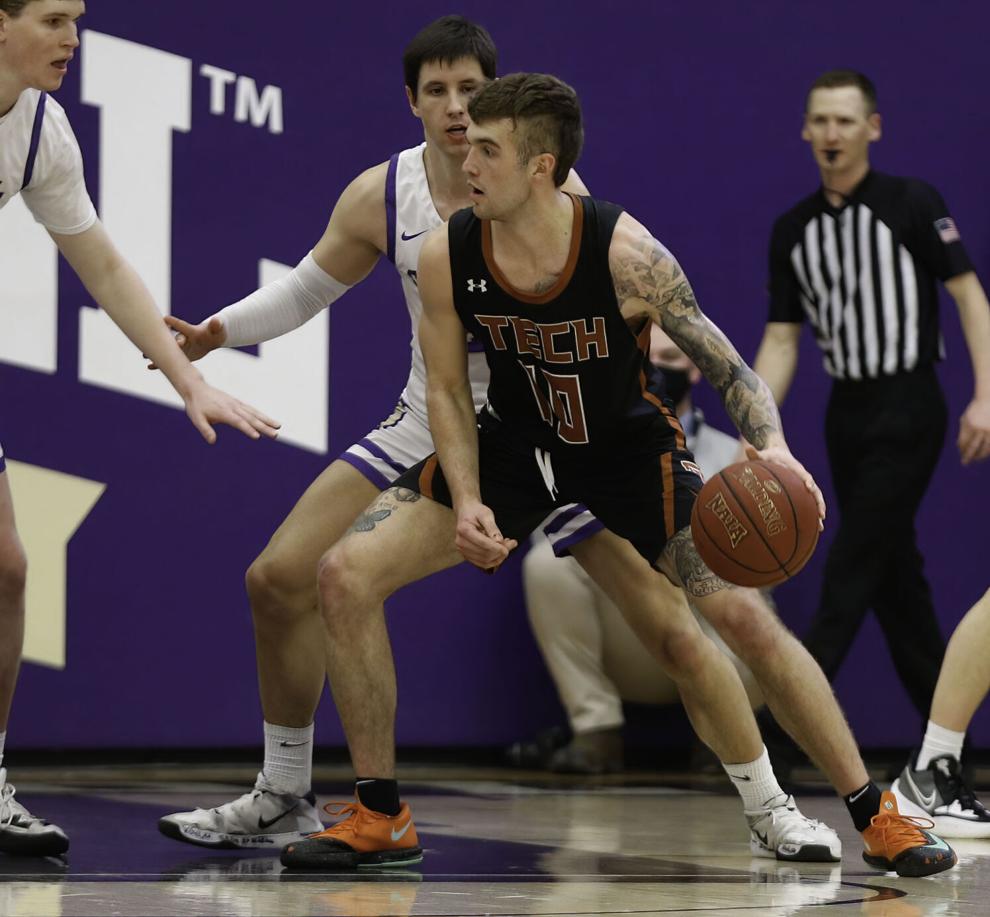 Bake, a freshman from Fairfield, Montana, averaged nearly 20 minutes per game for Tech on the bench. He knocked down 39 3-pointers in 29 games and averaged 6.7 points, 1.7 rebounds and 1.6 assists.
Collins was credited with two interceptions in Monday's league tournament title game. In 29 games, he had 33 interceptions and nine blocks. He also had 4.1 rebounds per game and shot the basketball 42.9 percent for the Orediggers.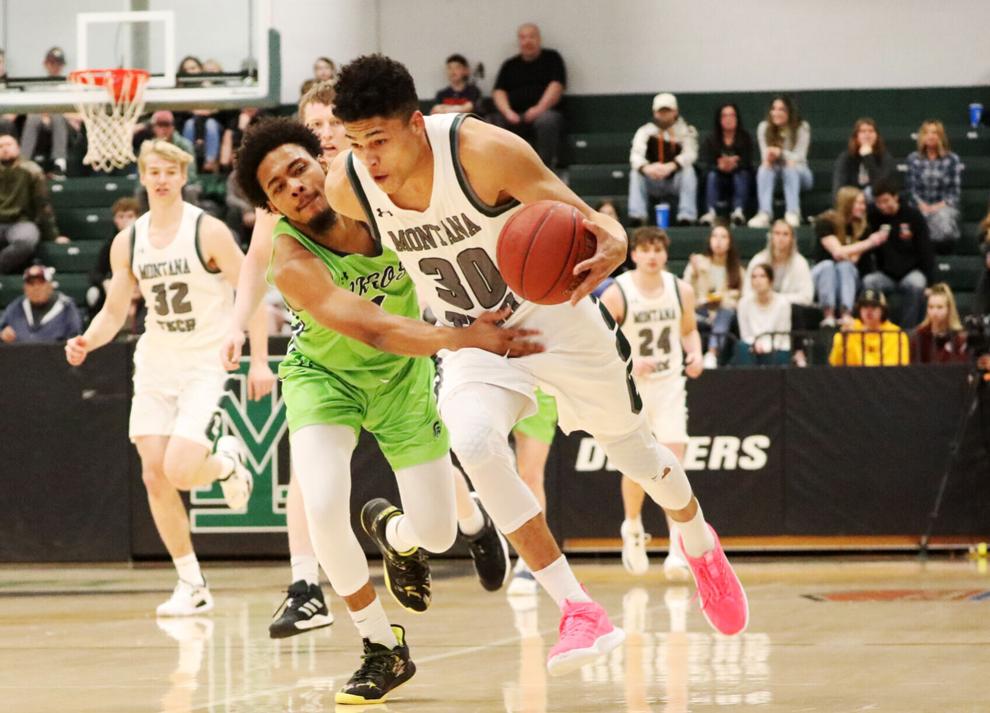 Rocky's Robinson was the Battlin' Bears' sixth leading scorer in his first season. He started 15 of 26 countable games and averaged 8.5 points, 3.1 rebounds, 1.6 assists and one steal per game. He twice scored a season-high 20 points, once against Carroll on the road and another time in a 15-point win over Providence.
First team choice for all conferences
Shamrock CampbellCarroll – 14.2 PPG, 3.4 RPG, 2.4 APG, 49.4% FG
Jovan SljivancaninCarroll – 19.5 PPG, 10.9 RPG, 3.3 APG, 45.7% FG
Mascio McCadneyMSU North – 18.8 PPG, 3.3 RPG, 3.1 APG, 46.4% FG
Caleb BellachMontana Tech – 15 PPG, 4.1 RPG, 1.9 APG, 44.1% FG
Sindou DialloMontana Tech – 16 PPG, 3.3 RPG, 3.2 APG, 44.3% FG
Jalen HodgesWestern Montana – 16.1 PPG, 5.3 RPG, 1.6 APG, 52.4% FG
Choice of all second team conferences
David HarrisMSU North – 16.1 PPG, 5.7 RPG, 3.0 APG, 45.5% FG
Taylor EnglandMontana Tech – 11.3 PPG, 7.1 RPG, 1.3 APG, 65.7% FG
Max ClarkWestern Montana – 13 PPG, 5.2 RPG, 4.7 APG, 47.9% FG
Jamal StephensonWestern Montana – 12.4 PPG, 2.7 RPG, 3.2 APG, 46.2% FG
Abdul BahRocky Mountain College – 14.6 PPG, 3.1 RPG, 2.2 APG, 41.8% FG
Marcus StephensProvidence – 20.4 PPG, 3.5 RPG, 4.3 APG, 41.2% FG
All-Defensive Team
Shamrock CampbellCarroll – 24 steals (0.8 per game), 105 rebounds (3.4 per game)
Jonny HillmanCarroll – 34 steals (1.1 per game), 16 blocks (0.5 per game)
Jesse KeltnerMSU-Northern – 22 steals (0.8 per game), 31 blocks (1.2 per game)
Derrius CollinsMontana Tech – 33 steals (1.1 per game), 9 blocks (0.3 per game)
Dawson FowlerProvidence – 32 steals (1.5 per game), 18 blocks (0.8 per game)
Character champions
Jaedon LiebergCarroll
Christian JonesMontana Tech
Treyton PaxtonWestern Montana
JC NelsonMSU-North
Beau SantistevanRocky Mountain College
Dawson FowlerProvidence