"Jockey" is an authentic and moving portrait of an older rider, accompanying a young athlete, pretending to be his son.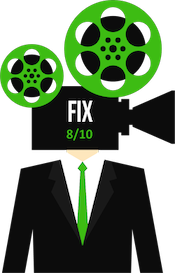 Review by Jonathan W. Hickman

There is a moment of realization in "Jockey" that is rare in cinema.
It comes at a critical moment through a subtle expression on aging jockey Jackson Silva's face.
The emotions displayed are so genuine, so satisfying that they are undeniably inspiring.
"Jockey" is an authentic and moving portrait of an older rider, accompanying a young athlete, pretending to be his son.
Jackson Silva (Clifton Collins Jr.) contemplates the next step in the twilight of a long career in the saddle. He still wants to take the reins on the track, but his broken and abused body just can't keep up with his inner desires. Then, one day, comes Gabriel Boullait (Moises Arias). Could he be Jackson's child?
Jackson immediately dismisses the idea that Gabriel is his son. But there is something hidden behind his eyes – a longing and a regret. Could this relationship be his redemption? Jackson strives to help the boy.
Gabriel knows Jackson's story on the horse. He is a fan and wants to be like him. But there is a price associated with becoming a champion driver. And maybe, as part of his legacy, Jackson agrees to take Gabriel on as an apprentice of sorts. Jackson's relationship with owner Ruth Wilkes (a terrific Molly Parker) gives both men a second chance.
Whether or not Gabriel is Jackson's son doesn't matter; the two share a bond. Along with his knowledge of the racing game, Jackson shares deep life lessons with Gabriel. These lessons take place in the form of easy discussions over a beer or at the edge of a catfish pond.
While writing the screenplay for "Jockey" with creative partner Greg Kwedar, director Clint Bentley drew on memories of his late father, a jockey in Florida. They cleverly use non-traditional actors, real jockeys, to infuse the narrative with rich credibility.
This approach will remind viewers of another horse-themed tale, Chloe Zhao's 2017 rodeo film "The Rider." And like this transcendent story, some of the best moments feature injured and experienced jockeys reflecting on their time in the race. There's a patient tenderness to these scenes that sets an engaging tone throughout.
Clifton Collins Jr., is perfect in the lead. Not only is he physically fit for the role, but his raw manner and crisp, cutting voice breathes life into Jackson. He is at home next to the real jockeys who remember the races that ended in injuries that changed his life. It is a performance worthy of being rewarded.
"Jockey" is a beautiful film with naturalistic images, captured by Adolpho Veloso (see "Mosquito"), at the height of films with much larger budgets. It's a very personal project for filmmaker Bentley, and that commitment to quality runs throughout.
See "Jockey" in limited release in Atlanta.