What do professional athletes really want? Apparently enough space for their growing luxury car collections.
The hectic, geographically unconnected life of a professional athlete is not something many can fully comprehend. Especially when it comes to all of the headline-grabbing sports superstars, unique considerations must be made when it comes to everything from dining out to buying real estate.
In this spirit, Engel & Volkers marks a milestone in the professional athlete circle with the recent launch of its Professional Athlete Advisory Group. Belonging to the prestigious private office designation of the luxury real estate brand, this exclusive group of real estate professionals specializes in supporting the distinct needs of professional athletes with expertise and discretion.
The advisory group is made up of licensed realtors with a personal connection to professional athletes (such as spouses or parents); those with experience working with players, coaches and staff; and even former athletes themselves.
According to Engel & Völkers, this select group has the first-hand experience required to understand the demands of a professional athlete's lifestyle and how best to support it, while also being uniquely positioned with the tools and resources of the brand to meet the distinct real estate needs of this clientele. This includes working with hectic training and travel schedules, providing family support and last minute moves.
"Who knows better what the wants and needs of these athletes are – especially when they are traded and relocated to a new city – than those who have lived the lifestyle? postulates Jim Bruske, one of the group's real estate agents, on a call with STOREYS from his home in Scottsdale, Arizona. "It's comforting for them to know that we've been there and we've done this and that we can help them."
No stranger to the world of professional athletes, before working in real estate, Bruske enjoyed a 15-year career in professional baseball, including playing for the 1998 World Series-winning New York Yankees. Although he grew up with a mother who was a real estate agent, Bruske never thought the real estate business would interest him, even before a career in professional baseball was considered. "But I've stopped at a few open houses here and there and I've always been very intrigued by the houses," he says. "Not the real estate industry itself, but the homes themselves."
Inevitably, there came a time for Bruske to consider what to do upon retirement from America's national pastime. "I thought I was going to take some time off to play golf and relax, but I got bored two weeks later," Bruske says. "I was talking to my wife about the possibility of buying an investment property in Arizona, so I thought I'd better go get my real estate license when I have time. Next thing I know, I look up 10 months later, and I'm 110% in the business, with a team under me. It kind of happened. And 21 years later, here I am at the head of an office for Engel & Völkers in Scottsdale.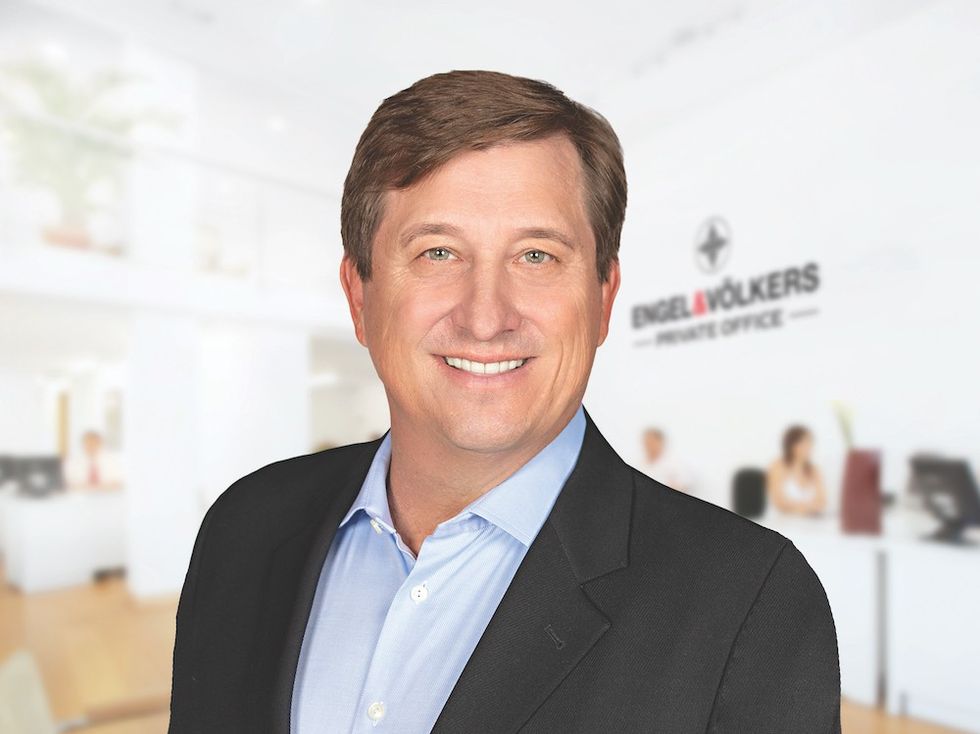 Bruske says his biggest concern is making sure his professional athlete clients get a decent deal. "If they're traded next year and have to sell their house, you want them to make money, not lose it," Bruske says. "It's obviously tough right now in this inconsistent market. So I have to make sure they're not overpaying. A lot of these agents will work with a professional athlete without even knowing the neighborhood because they're thrilled to work with a person, especially on a sale that's in the dollar range, they don't worry about whether their customers are paying too much, whether they're getting a good deal, whether it's a good location, whether they are going to be mobbed by the media, or whether there are good schools for their children."
Ultimately, it's about a lifestyle, says Bruske. "That's what we sell; lifestyles. Their way of life is just a little different from most others. Naturally, this means that the list of "must-haves" for professional athletes looking for a home is not exactly that of the typical buyer.
"Everyone is different, but if I had to pick one common staple, it's a great garage," Bruske says. "These guys love their cars; they have extra cars, so that's key. In Arizona, swimming pools are huge needs.
Somewhat surprisingly, a home gym isn't necessarily at the top of the must-have list. "Nowadays there are so many facilities where professional athletes can train," says Bruske. "They might have their Peloton bike, treadmill and weights in a certain room, but I only sold one house where a guy had trainers come to his house to train him there. He converted his 12-car garage into something akin to a Gold's Gym – it was crazy, it was really cool. I think he spent a few hundred thousand dollars on weights. But many of these people, when they finish in their training centers, they go home and they are normal people. They want to get away from it and go home and relax.
Despite the geographic uncertainty associated with the job and the knowledge that their stay in a particular city may be fleeting, Bruske says these athletes would rather buy homes than rent them for themselves and their families.
"A lot of these clients are looking to build their portfolio," says Bruske. "I'm working with a guy right now who's an Arizona Cayotes hockey player – a younger guy – and he's young but not young for the sport. So he thinks about investments. So the house we're selling him, if he's traded in a year or two, they'll probably keep it as a rental or vacation property. They'll be fine no matter what – whether they sell it, keep it and own it, or rent it out. It will definitely be a big revenue generator.
Of course, Bruske acknowledges, the potential for revenue generation depends on the type of market we find ourselves in. "A year ago, when sellers were lining up offers, it was not the right time for these customers to buy a house. They'll pay more than they should, get in bidding wars, and will be frustrated. But now we are back to a more normal market. The reality is that buyers can't just throw any number and get 10 offers. I'm not saying it's entirely a buyer's market, but rather a balanced market between buyers and sellers.
Bruske says he's learned a thing or two from dealing specifically with his professional athlete clientele. "You learn to keep it really low-key," says Bruske. "A lot of the agents on the other end want to know who the customer is buying the house – and I understand that. But that's a problem. You have to be careful that they know they have to not say to the world buying the ad. These athletes don't need people walking past their homes. So you have to be careful what you say to these agents. Some of them who deal in real estate very high end get it, but others don't and want the bragging rights of a celebrity sale.
Besides the privacy factor, one of the biggest assets offered by the new Engel & Völkers advisory group is the all-in-one white glove service.
"When we take on one of these clients, we know we're not just going to be their real estate agents," Bruske says. "We are going to install their movers, cleaners and painters; talk to their financial planners; talk to their agents — we do it all. We are the real estate concierge. Especially in their season, they don't need to be bothered with questions like "should we paint this wall?", so we do it at our expense. Buying and selling is a tedious and time-consuming process, so we take that stress away from them and let them focus on the game."
And if there's anyone who understands the importance of focus on game day, it's Bruske. This is what makes him a bond with his professional athlete clients who become friends.
"It's really fun because you can talk about what you were doing with those guys," Bruske says of clients like other New York Yankees players. "It's different to hear the younger guys talking about what's different in the game now, as opposed to when we were playing. I mean, I go to games and I watch them on TV and I can see a game. But you really don't know until you're in the locker room.
Or, apparently, on jokes while checking out a parking lot-sized garage…