Arnold Schwarzenegger, with his highly successful pursuits in bodybuilding, acting, business and politics, has become a giant of a media personality. He uses his online platform, his social networks, to advance the causes that are close to his heart, to share his centers of interest and his projects, and to communicate with his public.
ADVERTISING
The article continues below this ad
With Special Olympics powerlifter Kevin Cantrell going viral for his incredible feat, Schwarzenegger expressed his admiration for the young athlete.
ADVERTISING
The article continues below this ad
Kevin Cantrell at Special Olympics
On Instagram, Arnold Schwarzenegger posted the images of powerlifter, Kevin Cantrell easily lifting 501 pounds, driving the public crazy. He captioned the post, "You inspire me, Kevin! Repost from @espn • Kevin Cantrell 🤝 500 pound club @specialolympics".
The Special Olympics is the largest organized sporting event for children and adults with intellectual and physical disabilities. The 2022 American Special Olympics held in Orlando, Florida began on June 5 and will end on June 12. Cantrell, a weightlifter from Ohio, stole the show with his performance and made headlines around the world.
The 34-year-old athlete has become an inspiration to many. He went viral on all social media platforms for his display of near superhuman strength. Wearing a t-shirt with 'Ohio' printed on the front, Cantrell performed the first 500-pound deadlift of the 2022 Special Olympics USA Games.
DIVE DEEPER
Arnold Schwarzenegger also competed as a powerlifter once
In the space of 18 months between 1966 and 1968, Arnold Schwarzenegger competed in at least three powerlifting competitions. He even has a weightlifting history, winning the heavyweight class at the Austrian Olympic Weightlifting Championships in 1965.
ADVERTISING
The article continues below this ad
As a powerlifter, he went from a total of 1290 pounds to just under 1600 pounds. His peak was at a total of 1598 pounds at the 1968 German Powerlifting Championships, his last competition as a powerlifter. Here he lifted a phenomenal 683 pounds, nearly 700 before the 800-pound barrier had yet fallen. He also did a 474-pound squat and a 441-pound bench press.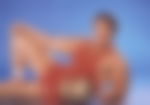 This deadlift was a German record that stayed at the top for about 2 years. At the time, Schwarzenegger was just 20 years old, a far cry from his peak in powerlifting. The age at which elite lifters typically reach their peak is 35.
ADVERTISING
The article continues below this ad
According to the bodybuilding icon, his best powerlifts in the gym were even higher. He claims to have reached 545 pounds in the squat, 500 pounds in the bench press and a deadlift of 710 pounds. He is truly an icon of strength. It looks like Kevin Cantrell is well on his way to becoming one as well.
DIVE DEEPER